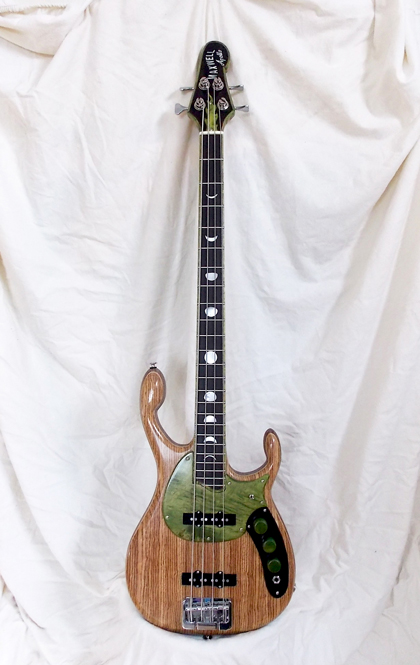 Apollo
Solidbody, neck-thru electric bass guitar with Maple & walnut neck and body slab, with Zebrawood top and back, dyed maple and purpleheart binding, dyed Maple pickguard and truss rod cover, bound 24-fret ebony fretboard. Hipshot A–style bridge and Ultralight Tuners, Bare Knuckles Jazz bass pickups, with series/parallel switching and an onboard effects loop through a stereo jack.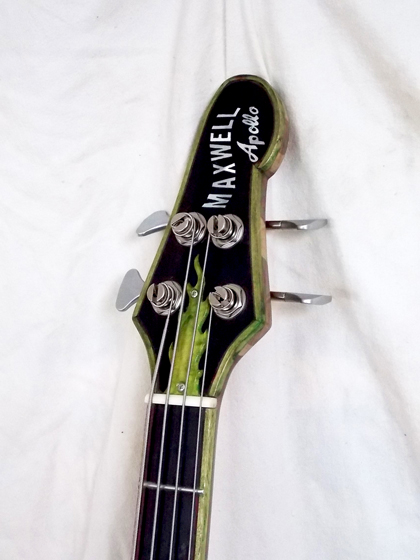 A model I built for an old friend and musical collaborator, Paul Kester, the Apollo was designed to approximate the feel and shape of a Modulus Flea Bass, but with some stylistic divergence and embellishment. One of Paul's old band's flagship tune was called 'Lunar Module', so we worked the name of the instrument and the two main inlay pieces around that reference.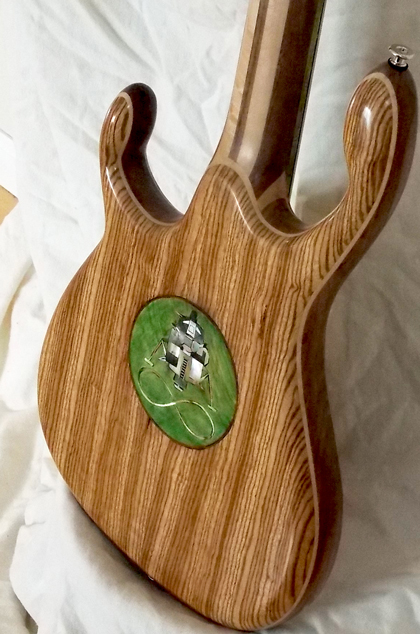 The Mother-of-Pearl Moon Phases were so obvious I couldn't believe it, and I can't believe I haven't seen it done before on a guitar —I'm certain I can't be the first to do this style of fingerboard inlay, but it's likely I'll be using it again. The Apollo 13 Lunar Module on the back features Gold and Black as well as White Mother-of-Pearl, and also sterling silver in a couple spots.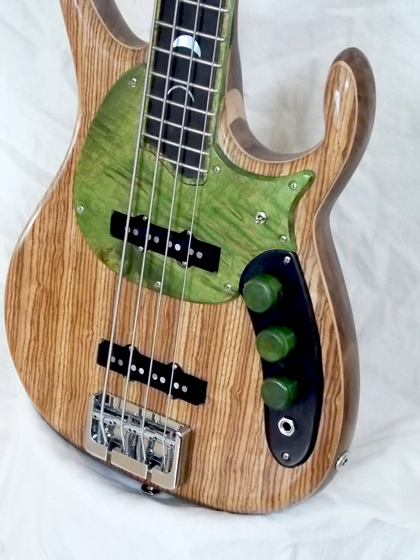 The stereo jack mounted in the instrument's side handles the effects loop's send and return, via a Y-cable that starts with one 1/4" Stereo Plug that splits into two Mono plugs to link from either side of the effects chain. The controls are set up like a traditional Jazz bass setup, with independent volume controls that feed into the same tone control. The Volume knob for the Neck Pickup sits on a push-pull pot which changes the pickups from parallel to series wiring, essentially combining the two single coils into one humbucker —which gives a nice beefy character to the sound, making this a really sonically diverse bass.